Hadhrat Jaabir (Allah be pleased with him) narrates that Muhammad (peace be upon him) said: "The distinguishing factor between kufr and Imaan is the deliberate neglect of Salaat."
(Muslim).
This page tells you about the prayer timings in Leeds, UK. Inshallah every month the timings will be updated. These timings might not be accurate. Please check with your local mosque.

*Calculation Method Used : Muslim World League
If you see any difference in Prayer Times then try different Calculation method.These prayer timings might not be accurate..
Leeds, West Yorkshire
1 Jul 2007 - 31 Jul 2007

| | | | | | | | |
| --- | --- | --- | --- | --- | --- | --- | --- |
| 01 | Sun | 03:38 | 04:37 | 13:09 | 18:53 | 21:42 | 22:41 |
| 02 | Mon | 03:39 | 04:39 | 13:10 | 18:53 | 21:41 | 22:41 |
| 03 | Tue | 03:39 | 04:39 | 13:10 | 18:51 | 21:41 | 22:41 |
| 04 | Wed | 03:41 | 04:41 | 13:10 | 18:51 | 21:39 | 22:39 |
| 05 | Thu | 03:41 | 04:41 | 13:10 | 18:51 | 21:39 | 22:39 |
| 06 | Fri | 03:41 | 04:41 | 13:10 | 18:51 | 21:39 | 22:39 |
| 07 | Sat | 03:42 | 04:43 | 13:11 | 18:51 | 21:39 | 22:40 |
| 08 | Sun | 03:42 | 04:43 | 13:11 | 18:51 | 21:37 | 22:38 |
| 09 | Mon | 03:44 | 04:45 | 13:11 | 18:51 | 21:37 | 22:38 |
| 10 | Tue | 03:45 | 04:46 | 13:11 | 18:51 | 21:37 | 22:38 |
| 11 | Wed | 03:44 | 04:46 | 13:11 | 18:51 | 21:35 | 22:37 |
| 12 | Thu | 03:47 | 04:49 | 13:11 | 18:50 | 21:35 | 22:37 |
| 13 | Fri | 03:48 | 04:50 | 13:11 | 18:50 | 21:33 | 22:35 |
| 14 | Sat | 03:47 | 04:50 | 13:13 | 18:48 | 21:32 | 22:35 |
| 15 | Sun | 03:49 | 04:52 | 13:13 | 18:48 | 21:32 | 22:35 |
| 16 | Mon | 03:51 | 04:54 | 13:13 | 18:48 | 21:30 | 22:33 |
| 17 | Tue | 03:51 | 04:54 | 13:13 | 18:48 | 21:30 | 22:33 |
| 18 | Wed | 03:52 | 04:56 | 13:13 | 18:46 | 21:28 | 22:32 |
| 19 | Thu | 03:54 | 04:58 | 13:13 | 18:46 | 21:28 | 22:32 |
| 20 | Fri | 03:53 | 04:58 | 13:13 | 18:46 | 21:26 | 22:31 |
| 21 | Sat | 03:55 | 05:00 | 13:13 | 18:44 | 21:25 | 22:30 |
| 22 | Sun | 03:56 | 05:01 | 13:13 | 18:44 | 21:23 | 22:28 |
| 23 | Mon | 03:57 | 05:03 | 13:13 | 18:44 | 21:21 | 22:27 |
| 24 | Tue | 03:58 | 05:04 | 13:13 | 18:42 | 21:21 | 22:27 |
| 25 | Wed | 03:58 | 05:05 | 13:13 | 18:42 | 21:19 | 22:26 |
| 26 | Thu | 04:01 | 05:08 | 13:13 | 18:41 | 21:17 | 22:24 |
| 27 | Fri | 04:01 | 05:09 | 13:13 | 18:41 | 21:16 | 22:24 |
| 28 | Sat | 04:03 | 05:11 | 13:13 | 18:39 | 21:14 | 22:22 |
| 29 | Sun | 04:03 | 05:12 | 13:13 | 18:39 | 21:12 | 22:21 |
| 30 | Mon | 04:04 | 05:13 | 13:13 | 18:37 | 21:10 | 22:19 |
| 31 | Tue | 04:07 | 05:16 | 13:13 | 18:37 | 21:10 | 22:19 |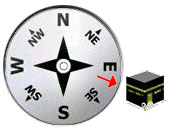 Qiblah Direction
119.480866 (From North Clockwise)
For more info please vist

Designed And Hosted By Yasir Sheikh, Uk